Fall Flowers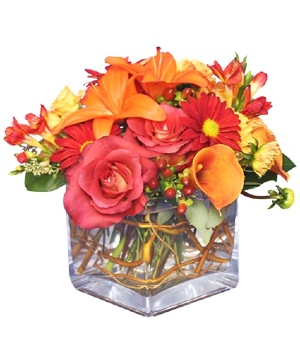 SEASONAL POTPOURRI
Fresh Floral Design
Add a little seasonal spice to your celebration or family gathering with this lovely arrangement of fall colors. Order Redcliff, AB flowers online or call and let us help you create beautiful memories.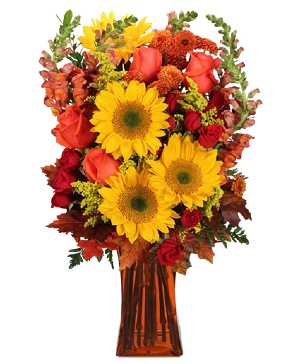 All Hail to Fall!
Flower Arrangement
Three cheers for autumn! This collection of fall-colored flowers is a great blend of vibrance and energy for any fall-themed occasion. Happy sunflowers are surrounded by a variety of roses, mini roses, snapdragons and mums inside a flared orange vase. This elegant fall flower arrangement will be a great centerpiece to your best autumn parties and dinners, or a backdrop to even more elegant fall evenings.
There's no denying it, the flowers of fall show the most fabulous color displays in nature. Who wouldn't want to bring these ruddy reds, deep browns and pumpkin-colored arrangements indoors? Flowers are easy decorations for spontanious fall parties. Maybe you know someone who needs a little uplifting? Let BEST BOUQUET FLOWERS / THE ROSERY FLORIST & GIFTS help you send fall flowers in a variety of autum colors.